We are slowly starting to work on making our dining room functional. Components I want to include: round table, cream chairs, pink & gray color scheme, French empire(ish) chandelier. TBD: art (maybe some cool wallpaper panels? maybe some abstract art?), rug, china cabinet (not a huge priority).
Quick reminder on where we started last February.
Also - I know you don't have to match your dining room to your formal china, but I do want it to complement the room. Mine is a mix of Herend Princess Victoria in green and Herend Queen Victoria.
A few dining rooms I have loved for years and what inspired my baby pink & neutral dining room.
Styled slightly differently in the photo below
But then I started worrying about doing that much pink (I have three big windows) for drapes. In the back of my mind I really kept thinking an updated buffalo check would be a great option too -- then I stumbled across this fabric at Printer's Alley. You can't tell from this iPhone pic, but it's actually little lines that make the buffalo check. The darkest squares are just fatter and closer together lines. It's a silk and was so reasonable.
I found this to show a little mock up of gray buffalo check in drapes.
I'm leaning towards this hardware from Restoration Hardware.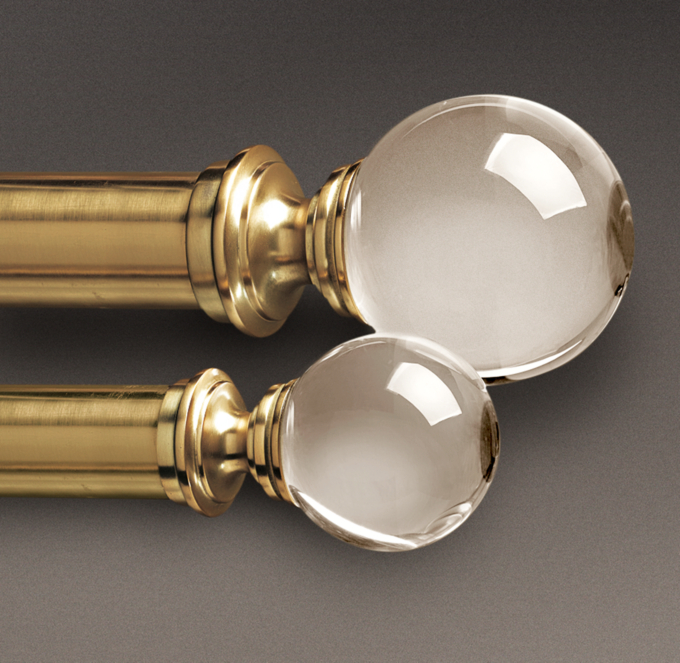 Gray toned draperies allow for solid pink linen (super reasonable at less than $10 / yd!) for the chairs. There is a lot of fabric needed for the backs and seats of the frames so the room should still have a fair amount of pink. I contemplated doing the back of the backs of the chairs in a different fabric, but in the end I'm worried that is a look too busy for me and something I'd tire of quicker.
I snagged the 8 frames a few months ago from one of my faves...Mr. Robert Corprew.
After I have the drapes made and recover the chairs, finding a French Empire(ish) chandelier is one of my next priorities. The original light fixture in there is pitiful, but will have to do for a while longer. I'll budget that next!
This one is new by Circa, but open to finding an old one with a similar shape that is more crystal too. Love the one in Suellen's dining room I showed above!
Here is a little mock-up. What do you think?